We are committed to cultivating a community of Faith, Hope, and Love. Come along and join with us at one of our many groups, events, and activities. Here you can find all the events and activities that are on regularly, or are coming up. Each has information about them, prices if applicable, when, where, what time, and contact information.
---
Mobile Community Pantry
Anglicare's Mobile Community Pantry vans provide grocery items at very low cost to help stretch your budget further. The Mobile Community Pantry is run in partnership with Moss Vale Anglican and visits us on a fortnightly basis.
We welcome Community members.  In exchange for a small contribution – $10 for groceries  – you can then fill a bag with items of your choice from the stock available.
For more information contact Dean Reilly at mvanglican@bigpond.com or visit
Next Date: Friday July 26th, 1-2 pm
---
---
Soup Sunday
The first Sunday of each month we share a meal together; soup during the months of May to September; BBQ and salads during the months of October to April.
Join us for shared Soup lunch on Sunday August 4th in the Moss Vale Hall after the 10am Gathering.
Contact Catherine at mvanglican@bigpond.com for more information.
---
Next Phase
For our over 55's, those in the next phase in their lives
Wednesday July 10 |9:30am | St John's Moss Vale
Contact Chris Dudley at mvanglican@bigpond.com for more information.
---
Mother's Union
3rd Wednesday of the Month | 10AM in The Hall
Next meeting Wednesday June 17th | The Rectory | 10am
Morning Tea with Dean and Catherine
Contact Elizabeth Lowe at mvanglican@bigpond.com for more information.
---
Men's Ministry
Purchase tickets for Southern Highlands Men's Conference 2019
The annual Southern Highlands Men's Conference will be held on Saturday 3rd August, 2019 at Mittagong Anglican Church.
SHMC 2019 is a gathering for men across the Southern Highlands to hear from the bible and better equip us for life and relationships.
This year Peter Jensen will speak to us about Godly Wisdom…teach the older….urge the younger.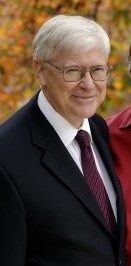 The Right Rev Dr Peter Jensen is former principal of Moore College, former Archbishop of Sydney, and former General Secretary of the GAFCON movement. He is currently co-editor of the Reformed Theological Review. His published works include At the Heart of the Universe (1991) and The Revelation of God (2002).He has lectured and addressed conferences in England, Ireland, Eastern Europe, South Africa, New Zealand, Chile, Singapore, United States and Canada. Peter Jensen is married to Christine. They have five adult children and 20 grandchildren.
Join us for a great time of fellowship, biblical teaching, and hearty food.
– SHMC Team –
Contact Dean Reilly at mvanglican@bigpond.com for more information.
---
Men's Ministry
Contact Dean Reilly at mvanglican@bigpond.com to RSVP or for more information.
---
Women's and Men's Winter Bible Reading Challenge
What would happen if Christian women everywhere decided to use whatever means we have, including social media, to simulate a public reading of the Word? What if we decided to stop underestimating the power of the Word, and instead devoted ourselves to be readers of it, and to make hearers of it?
We are going to attempt to do just that this winter – inviting the whole world to simply read the New Testament with us. Page by page, hearing what God has for us. Faithful old Bible readers alongside baby Christian Bible readers, hand in hand with new mothers, busy fathers, children and teenagers- and every friend, and neighbor, and acquaintance we can get to join us. All together, on the same page, every day, to hear the Word and let it change us.
We so hope you will join us! Spread the Word. Pass the Salt.
It's a #winterbiblereadingchallengemv
Join us June 3rd as we read the New Testament this winter.
Print double-sided, flip on short edge.
Email Catherine Reilly or Naomi van Dort at mvanglican@bigpond.com for more info.